Our Ultimate Montana Summer may be winding down, but it is most definitely not over. It's been a toasty one this year, leaving Western Montanans with two choices – sit in the air conditioning, or get in the water! Since most of us live here to do the latter, we thought we'd put together a list of our favorite watering holes by Western Montana's favorite watering holes. Grab your boat, kayak, raft, inner-tube, or paddle board and then head to one of these places after a day of fun in the sun…
Darby, West Fork of the Bitterroot River or Lake Como
No matter what you are craving – beer, "brown water" (local terminology for whiskey), mouth-watering food, or all of the above — with a side order of local entertainment, head to the Big Cat Cafe/406 Saloon. This Darby staple is THE place to hang, and if you're in luck, you might catch the Darby Rodeo! 
Image via Big Cat Cafe
Ultimate Montana Summer: Best Kept Secrets of Farmers' Markets in Western Montana >>>
If you are looking for more of a "dive" bar with a local vibe that dates back to Darby's logger days, check out the Sawmill Bar. Locals and tourists alike love this place for its food and service. One visitor from Seattle boasted it was the best surf-n-turf he had in Montana, and another reviewer said the bartender was amazing. Nothing is better after a long day on the water than relaxing with amazing food and wonderful service. 
Image via Facebook
Hamilton, Bitterroot River or Lake Como
Culinary pizza and craft beer, anyone? How about salads and dressings made fresh daily and craft beer? How about just craft beer? Let's face it, playing on the water all day builds an appetite, and this local favorite for pizza and beer is a homerun.
Image via Higher Ground
If you're craving a big juicy burger and an adult beverage after a solid day of slaying trout, run – don't walk – to Naps Grill. Naps serves an awarding-winning burger, and after being in business for 28 years, they've graduated from the Best Burger In the Valley award to The Top 50 Burgers in the Nation list! 
Image via Facebook
Victor, Bitterroot River/Tucker or Victor Crossing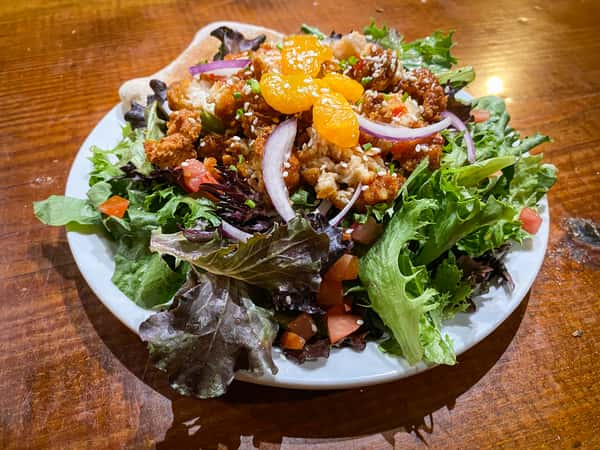 Don't let the small-town vibe fool you – Cowboy Troy's has excellent fare. Their pizzas are creative and delicious. Their fries are amazing – light, crisp, and seasoned perfectly. Their burgers and wings will leave you exceptionally satisfied, and their salads rival the freshness and flavor of any city establishment. No matter what you are in the mood for, you'll find it on the menu here. 
Image via Cowboy Troy's
Ultimate Montana Summer: Improve your huckleberry game with these recipes >>>
A fly-fisher can develop a fearsome appetite after casting-mending-netting all day! Sometimes, all that will cure that hunger is a nice, big, juicy, homegrown steak. The Victor Steakhouse will deliver just that with its old-west steakhouse feel and menu. With a full bar, this combination is hard to beat after a day spent on the BRoot. 
Stevensville, Bitterroot River/Stevi Bridge
The quaint little town of Stevensville, also known as the oldest non-indigenous settlement in Montana, has a lot to offer its river crowd. One of the most popular places to stretch your legs after being on the water all day is at Blacksmith Brewing Company. Here you can choose from handcrafted IPAs, Pilsners, and Scotch Ales. Knock the suds off the top of your microbrew while you visit with the local fly fishers that frequent the brewery. Don't be surprised if there is live local music playing too! Blacksmith's also has a great selection of cool swag and merch.
Image via Instagram
Stevensville residents love them some Tin Can. This hot spot always has something happening – Monday Night Football, Tuesday Trivia, Thursday and Sunday Night football, which can be viewed on one of Tin Can's many big screens. Did we mention they have 24 beers on tap? Their burgers and fries will nip that river hunger right in the bud, and if you are fortunate enough to visit them on a Thursday, be sure to order the street tacos. Like Blacksmith's, the Tin Can also sells irresistible merch. 
Image via Instagram
Florence, Bitterroot River/Florence Bridge 
You can't really officially call yourself a Bitterrooter until you have let Irish whiskey slide down your throat while you look up and marvel at the carpeted ceiling at the Rustic Hut. Boy, oh boy, if that carpet could talk! The Rustic Hut is a favorite with the locals, known for its live entertainment, generous dancefloor, mouth-watering pizza, and my personal favorite – Prime Rib Friday. The prime rib special varies a bit from time to time, but most of the time, you get a generous slab of prime rib, with a baked potato, salad bar, and Texas toast for about $23. 
Image via Rustic Hut
The Backyard Tap House has become the "Cheers" of the Bitterroot Valley. Over the years, they have expanded their outdoor space, offering a family-friendly atmosphere with lots of yard and board games. This watering hole offers a stunning array of craft beers, wine, and signature cocktails. And the food? Let me ask you this: When was the last time you had a pint of bacon? Exactly. 
Image via Facebook
Ultimate Montana Summer: Exploring back-country roads >>>
Lolo, Lolo Creek
I've only fly-fished Lolo Creek once but I managed to land a fat rainbow after walking upstream quite a bit. There isn't a lot of river access to be had in Lolo, but who cares? You don't need an excuse to visit Lolo Peak Brewing. The atmosphere in this brewery is quintessentially Montana, from the big logs, to the river carved in the bar, to the relaxing outdoor space. No matter what your favorite family of beers is, you'll find a brew that you won't soon forget at Lolo Peak. The food here is outstanding also – you can't miss with one of their salads, their burgers are legendary, and their fish tacos are unforgettable. 
Image via Instagram
Missoula, Clarkfork River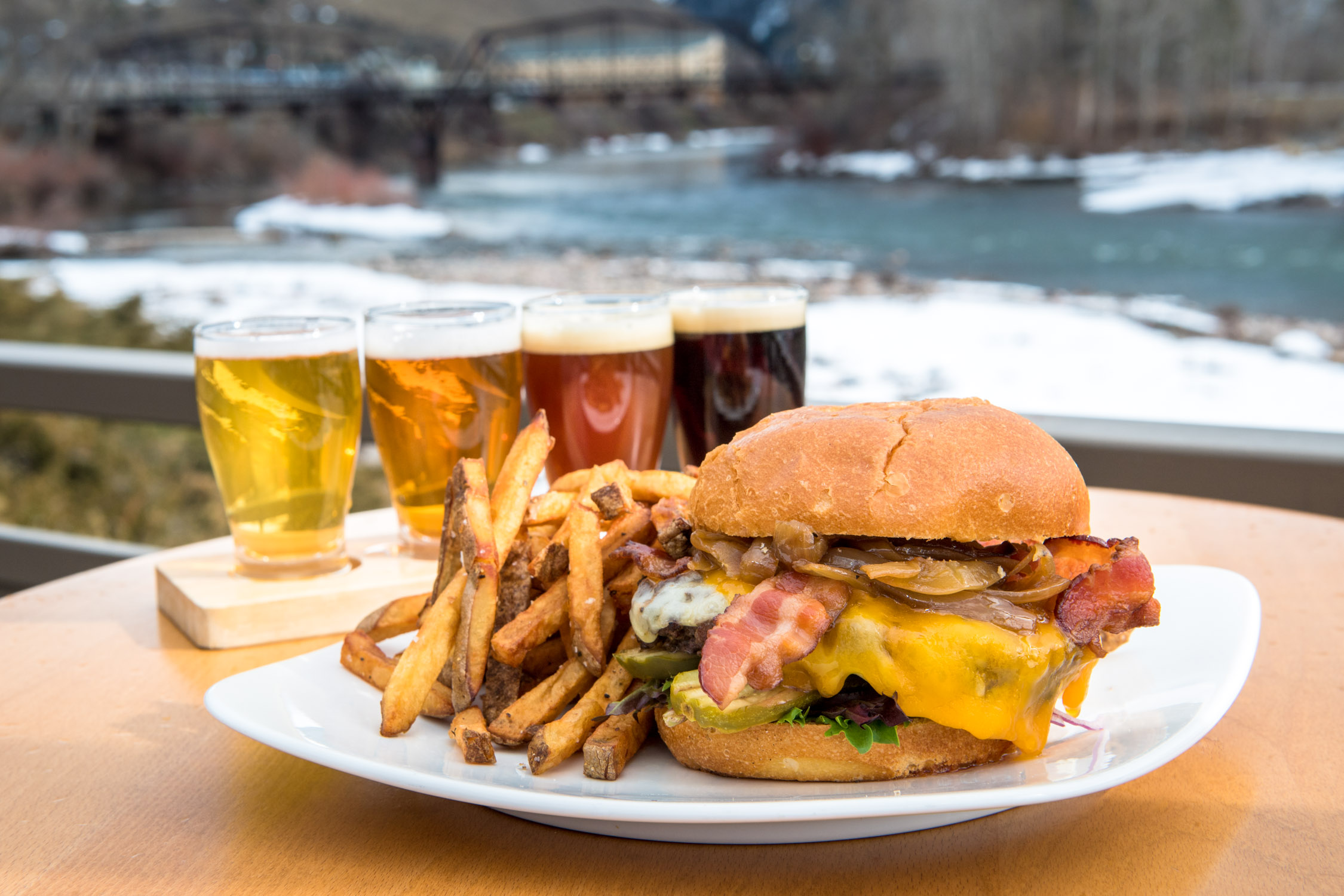 It's surprisingly difficult to find a place to eat and drink on the river in Missoula, considering the whole town is built around a river! That's why FINN is a clear winner as far as watering holes intersecting. You can fly fish right below the restaurant or come off the river from paddle-boarding, inner-tubing, or kayaking. FINN has a sophisticated ambiance, a gorgeous bar, full windows, and a deck that overlooks the river. Their food is outstanding – you can enjoy fine dining for dinner, or if you are there earlier in the day, you can partake of their killer appetizer and/or pizza menu. (May I personally recommend the Classic Dungeness Crab & Artichoke Dip and Antipasti Platter from FINN's small plates menu.)
Image via FINN
Ending a day of fly-fishing with a "Mo burger" is a rite of passage for any Missoulian. Their website jokingly offers, "Warm Beer and Cold Burgers." Locals go nuts for their burgers, which they wash down with reasonably priced drinks. Says one patron, "This is an awesome dive bar downtown. We always take every one of our out-of-town friends here when they visit. This is one of the places you have to try when you visit Missoula. They have great burgers, and their beer pitchers are large."
Image via Mariane Maynard
While we're on the topic of dive bars, another one of our favorite watering holes is Charlie B's. The standing joke in Missoula is that it is a small town with a large drinking problem, so it's hard for a bar to stand out. Charlie B's does just that with its cheap drinks, epic people-watching, and (located at the back of the bar) The Dinosaur Cafe's delicious Cajun food not-so-cheerfully served up (think of Dick's Last Resort) for hungry patrons. Charlie B's is so legendary, that it made Esquire Magazine's list: 15 Bars Every Man Should Drink In Before He Dies. (Note: Charlie B's just so happens to be located next door to our Glacier Sotheby's International Realty office in Missoula, so stop in and say "hi" to one of our friendly agents.)
Image via Only In Your State
Polson, Flathead Lake
Fiesta En Jalisco is more of a restaurant than a watering hole BUT it makes our list because you can get a killer margarita here AND have Flathead Lake views. As you may have guessed from the name, Fiesta En Jalisco offers tasty Mexican cuisine. After a long day on the lake, you can start feasting right away on the complimentary chips and salsa!
Image via Facebook
This recently opened establishment is THE place to go for signature cocktails and an enticing food menu – they had us at Sea Salt Carmel fries! Um – yes, please! Just a sampling of the adult beverage menu includes a Huckleberry No-Jito, Wrecked Pirate, and adult milkshakes that contain your favorite spirits and ice cream! Talk about the perfect way to end a memorable day on the water!
Image via Facebook
If you have been partying on the lake all day, take the party to The Shoe, Polson's premiere party pad on the water. The Shoe has everything the professional lake-partier is looking for – an excellent happy hour menu, a varied and affordable drink menu, live entertainment, karaoke, and lake views as far as the eye can see! 
Image via Facebook
Wood's Bay, Flathead Lake
Just a few miles outside of Bigfork at Wood's Bay, you will find The Raven, a restaurant and bar with a Caribbean, "stay all day if you want" vibe. And this is one of the few locations on Flathead Lake that is physically RIGHT on the water – giving new meaning to the term, "Swim Up Bar." The Raven also hit Food Network's 100+ Best Burgers in Montana. Want to check out the view for yourself? The Raven has a live webcam!! 
Image via Facebook
The Bonfire has a sophisticated vibe, and incredible food. A few months ago, I got to visit with the owners, Lisa and Brian, of The Bonfire and asked them what the inspiration behind the restaurant was. Lisa explained, "We were looking for something that was more farm-to-table. The dark colors are reminiscent of our travels to Japan. Most everything, minus the citrus, is sourced from Montana. The trout comes from the lake, the beef comes from the area." This watering hole not only quenches your thirst and abates your hunger, but it also does it in a local way.  
Image via Facebook
Bigfork, Flathead Lake
The owners of The Raven and The Bonfire also own Whistling Andy Distilling, and it's an experience not to be missed. What makes the oldest distillery in Montana a favorite watering hole? Their commitment to their craft, as well as the implementation of quality and locally sourced ingredients. The website explains, "Whistling Andy meticulously handcrafts the finest in innovative and classic spirits using select local grains, local cherries, true first cut cane sugar, and locally sourced botanicals whenever possible." Visit the tasting room, peruse the diverse, inspired drink menu, and take home a bottle so you can prolong the experience. 
Image via Facebook
Bigfork is one of those little Montana towns that needs very little excuse to party, and Garden Bar is the heart of this attitude. This bar is steeped in personality and has a fantastic sense of humor. Maybe you'll luck out and visit the Garden Bar when their Spam-o-Rama is on — an annual festivity where patrons are encouraged to carve something out of Spam! With a stage for live entertainment, trees in the middle of the bar, reasonably priced drinks, and a guaranteed good time, the Garden Bar is the perfect way to take your lake party indoors. 
Image via Facebook
Flathead Lake Brewing makes our favorite watering hole list for its microbrews, urban Montana vibe, lake views, and delectable food. If you've worked up a hearty appetite on the lake, give their fish tacos or bacon pub house burger a try. Relax out on the deck with a cold beer and soak up the lake views while you wait for your food. As one patron put it, "Come hungry and thirsty and enjoy the fantastic views."
Image via Facebook
Lakeside, Flathead Lake 
Right about now, you are probably starting to figure out why Montana ranks 2nd in the country for most breweries per capita! It's a distinction we are proud of – our breweries serve the best hand-crafted beers, with incredible food, and memorable scenery. Tamarack Brewing Company in Lakeside is leading the pack and makes our distinguished list for all the things we love in a brewery, situated right next to a little creek. It is literally a watering hole by a watering hole! (And, of course, Lakeside's location on the shores of Flathead Lake makes this nomination a no-brainer as well!) Join them from 3-5:00 p.m. Monday though Friday for happy hour — voted Best Happy Hour in the Flathead Valley — pretty impressive, considering how many happy hours there are in Flathead Valley! 
Image via Tamarack Website
Whitefish, Whitefish Lake 
What's not to love about a place that has brews named "Cranky Sheriff" and "Debauchery" on the drink menu and "soul bowls" on the food menu? Bonsai is a hip, fun, and deeply satisfying place to eat, drink, and get merry with the locals. Adding to its appeal is its acceptance of your fur babies – dogs are not just allowed, they are part of the family at Bonsai Brewing Project. 
Image via Tamarack Website
Whitefish, with its proximity to Whitefish Lake, countless hiking trails, and Glacier National Park, also has a reputation for being a party town. The Great Northern Bar and Grill is Whitefish's party mecca. No matter what you're in the mood for after playing on the water all day, Great Northern Bar and Grill can accommodate with its pool tables, shuffleboard, over a dozen TV screens, a full patio, and 29 beers on tap! If it's a nightclub vibe you're after, stay late, and enjoy the live music and huge crowds. 
Image via Great Northern Bar & Grill
Naturally, we have just scratched the surface on noteworthy and memorable drinking and eating experiences to be had up and down the Bitterroot, Missoula, and Flathead Valleys. Start with this list and make it your personal mission to build your own!
Feature image via Kat Hobza 
Kat Hobza has lived in Montana since she was nine, and was raised in the mountains west of Victor, Montana. There she learned to hunt, fish, shoot competitively, chop and stack firewood, and drive on icy or muddy roads. Kat has over two decades of experience in professional writing and content marketing. When she's not crafting copy for Glacier Sotheby's International Realty, she's either hanging with her hilarious adult kids or soaking up the sun somewhere – a riverbank, a golf course, or her deck.
Pick up of LIVE Montana at any Glacier Sotheby's International Realty location or enjoy the digital version here: